Ming Wang, M.D., Ph.D.
Founding president, Tennessee Chinese Chamber of Commerce (www.tccc.us)
International president, Shanghai Aier Eye Hospital (www.aier021.com)
Director, Wang Vision Cataract and LASIK Center
Clinical associate professor of ophthalmology, University of Tennessee
Immigration has continuously had a positive impact on our country, and has been vital to our economic growth. In fact, the United States of America has always been an immigrant country, from our founding fathers that came to this country on the Mayflower to European immigrants who came through Ellis Island to the more recent immigrants from Far East countries, South America and other continents.
Nashville Business Journal, April Wortham, Reporter,Email: This email address is being protected from spambots. You need JavaScript enabled to view it.
China's recent leapfrogging of Japan to become the world's second-largest economy should come as a surprise to no one. The Chinese have been going gangbusters for years, even through the worldwide economic recession.
America is going through an economic downturn not seen since the Great Depression. Confidence in the U.S. economy, as well as the economic relationship between the U.S. and many countries in the world today, has been at a low point.
In addition to analyzing the economic figures and superficially apparent situation, we need to ask ourselves a key question: Why is America having so many problems in world politics, international affairs, and its economic and trade relationships with so many other countries? In my personal opinon, the deeper, fundamental underlying reason for this downturn in America's status in international affairs and the economy has much to do with the imposing and less sensitive attitude that we have demonstrated towards other countries and cultures in the past decade and the complacency and lack of curiosity that we have developed from America's success in the last century.
By: CINDY SANDERS, Nashville Medical News, Jan 2010
In the fourth quarter of 2009, 30 Tennessee executives traveled to China on a 10-day trade mission to expand cultural and economic ties with the country that boasts the largest population in the world.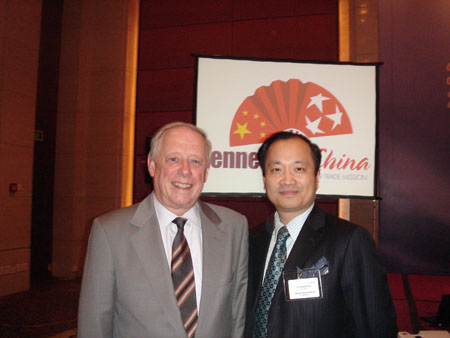 Dr. Ming Wang and Governor Phil Bredesen of Tennessee, at Beijing, on Tennessee China Mission 2009
The 2009 trip allowed state executives to visit healthcare, government and industry leaders in Beijing, Xi'an, Hangzhou and Hong Kong. This trip, which was recapped at a meeting hosted by the Tennessee Chinese Chamber of Commerce (TCCC), focused heavily on building healthcare partnerships and nurturing relationships that have already been formed.
Nashville Business Journal - by Linda Bryant Nashville Business Journal
The market for private health care in China began to open up about a year ago, signaled by a loosening of governmental restrictions.
Nashville-based ophthalmologist Dr. Ming Wang -- never one to shy away from an opportunity -- jumped in quickly to take advantage of the situation.
Soon after the country relaxed rules regarding private health care expansion, a China-based eye hospital company partly owned by Wang became the first private hospital in China to receive a foreign loan.